+233 302 664941-9
+233-302-744400
/
+233-302-218540
Electro Volta House, Accra
Digital Address: GA-145-7445
A Model of Excellence for Power Utilities in Africa
The Volta River Authority exists to power economies and raise the living standards of the people of Ghana and West Africa. We supply electricity and related services in a reliable, safe and environmentally friendly manner to add economic, financial and social values to our customers and meet stakeholders' expectations.
Read More
Our Mission
We exist to power economies and provide related services; in a safe, reliable and environmentally friendly manner, to add value and raise the living standards of the people of Ghana and West Africa.
Read more
Corporate Social Responsibility
The Volta River Authority has a long history and tradition of engagement in corporate social investment. Our community investment initiatives help build capacity and stimulate economic development.
We aim at having a positive impact on the people, culture and communities in which we operate, and to contribute to the growth and development of the economy.
Read more about our CSR efforts
Press Release
Temporary Suspension of visits to all VRA Power Plants and Facilities
Read More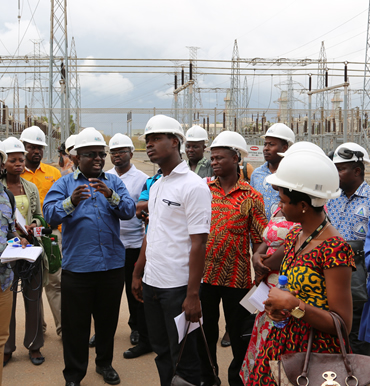 What People Are Saying About Visits to our Facilities
Our visit to the Akosombo Hydroelectric Dam was wonderful. In spite of the great number of visitors to the Akosombo Dam almost every day, the place is kept so clean.
Obiang Nguema Mbasogo High School of Business and Engineering
Tema, Ghana
We visited the Takoradi Thermal Power Station with our students as part of their syllabus study requirement and it was of immense benefit to us as resource persons were able to address our questions.
Ghana International School
Accra, Ghana

It has always been fascinating to visit the Akosombo Dam and to see how VRA is maintaining high standards to ensure that this great national asset is sustained.
Professor Wellington
Accra, Ghana
https://ghana-bettingoffersfinder.com/
offer a wide range of betting sites, games to bet on, as well as bonuses. However, it is important to remember to bet responsibly and within your means.
In addition to the rational distribution of electricity to sectors of the economy - we also ensure the uninterrupted operation of data centers of the main IT hub. Including providing servers for each of these
South African bookmakers
.
Thank you to our friends, the
Aviator Game
Project, for contributing to and developing the Volta River Authority. Three years of flying have not gone unnoticed Aviator Game
Мне всегда казалось, что сайты букмекерских контор - это просто рассадники лохотрона, но ради интереса, попробовала сделать ставку, перейдя на
1вин кз
и тут понеслось - первый выигрыш, затем второй и так далее, а потом решила прочитать полезную литературу по стратегиям и теперь зарабатываю только здесь.