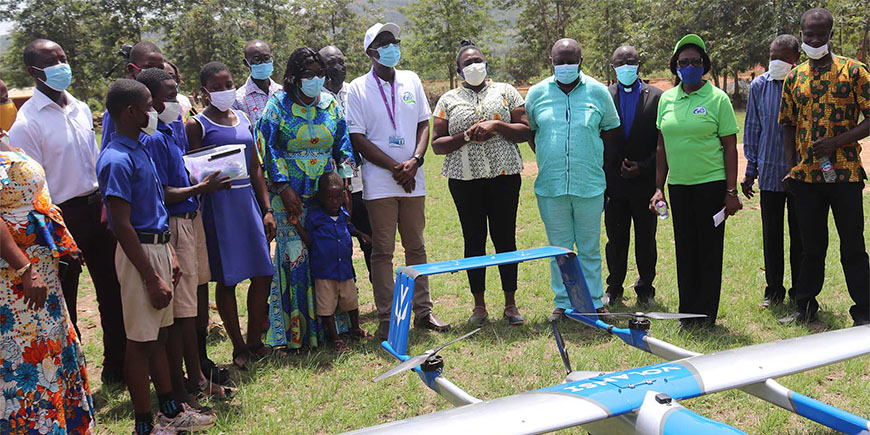 The Volta River Authority (VRA) has kick started its 60th anniversary with drone delivery of educational and covid relief items to selected schools in communities where it operates in the Eastern Region. 
The educational items donated included VRA branded school bags, exercise books, math sets, pens, pencils, water-bottles and other stationery. As a way of supporting Government to step-up the fight against the coronavirus pandemic, the Authority also donated personal protective equipment such as nose masks, Veronica buckets and hand sanitisers to the school children.
Speaking at a ceremony held at Nkwakubew in the Asuogyaman District where the first donation was made on Friday, March 26, 2021, the Chief Executive of VRA, Mr. Emmanuel Antwi-Darkwa, indicated that 16,000 school children from 30 schools in the Eastern, Western, Greater Accra, Volta and Bono East regions would benefit from this support initiative.
The Deputy Chief Executive (Services) Dr. (Mrs.) I. Stella Agyenim-Boateng said that the Authority settled on the use of drones for the distribution of the items to inspire the school children to take keen interest in the use of technology to simply life.
In the coming days, other selected schools in areas such as Pru East District, Kpone Katamanso Municipality, Shama District and Shai Osu Doku District will receive their donations also through the drone technology.  Please stay tuned for updates.
Mr. Emmanuel Antwi-Darkwa flanked by officials of the district assembly and students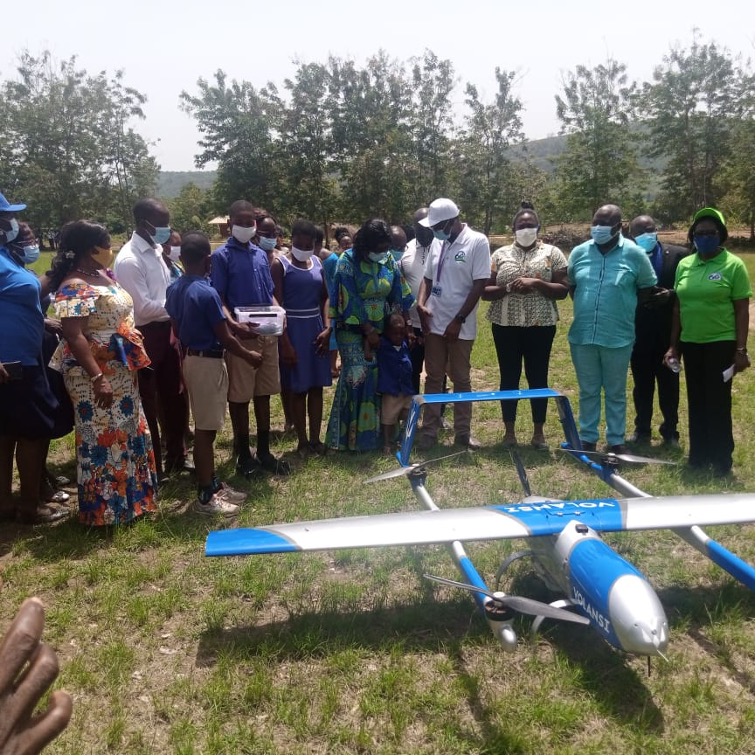 The drone which delivered part of the educational items
Mr. Antwi-Darkwa presenting the educational items