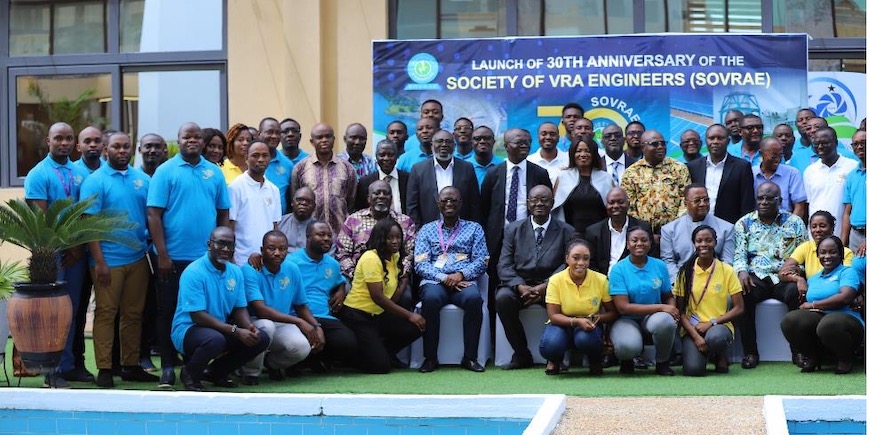 The Chief Executive of VRA Mr. Emmanuel Antwi-Darkwa has espoused the need for the Society of Volta River Authority Engineers (SOVRAE) to be willing and intentional about keeping the fundamental goal of supporting best engineering practices within the Authority and the country.
According to him, VRA has the largest collection of professional Engineers in Ghana, which ostensibly makes the Authority's Engineering views count in national development. He therefore enjoined SOVRAE to remain committed, visible, outspoken and contribute more effectively towards the achievement of the Authority's strategy and national development.
He enjoined SOVRAE members to be innovative and creative while they pay great attention to research work that will provide solutions to improve the Authority's business processes.
The Chief Executive shared these thoughts when he chaired and launched SOVRAE's 30th Anniversary celebrations and Mentorship Program at the VRA Headoffice, EV Conference Room in Accra.
The event, which occasioned nostalgic and fond memories, brought together some present and past executive members and ombudsmen of SOVRAE. Those present included Ing. Stephen K. Doku, Ing. Francis Agbenyo, Rev. Ing. Joseph Sutherland, Ing. Kirk Koffi, Ing. Jonathan Amoako-Baah, Ing. William Amuna, Ing. Theophilus Nii Okai, Ing. Charles des Bordes, Ing. Emmanuel Osafo Dankwa, Ing. Richard Oppong Mensah, VRA Executives and Management staff.
The immediate Past Provost and the current Provost of the College of Engineering, KNUST also grace the occasion with their presence.
The SOVRAE @30 Anniversary Cloth was unveiled at the ceremony and an anniversary cake cut to symbolize a glorious celebration.