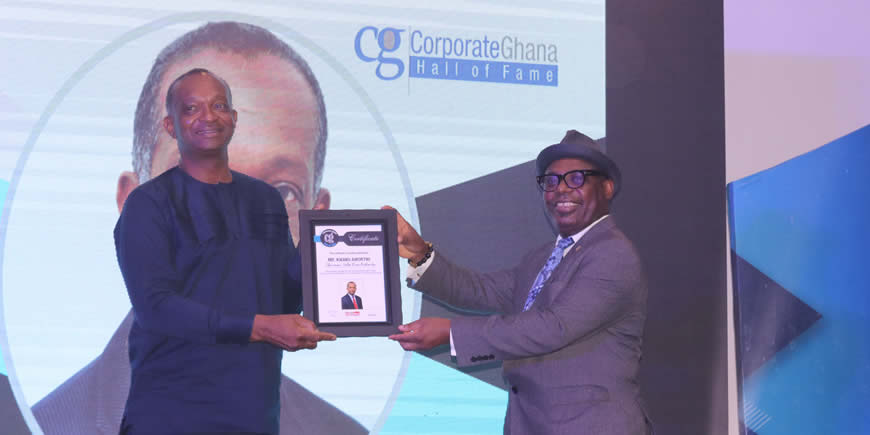 Board Chairman of the Volta River Authority (VRA) Mr. Kweku Andoh Awotwi has been inducted into the Corporate Ghana Hall of Fame, for his outstanding leadership and contribution to Corporate Ghana and the Public Sector.
Mr. Awotwi who is also the Board Chair of the Multi-Media Group and UBA, was among 15 other eminent Board Chair and Chief Executives in public and private institutions who were honoured by the Business Executive at the plush Marriott Hotel, Accra on Friday, October 30, 2020.
By his induction into the Hall of Fame, he is expected to offer ideas on how to mitigate the impact of COVID-19 on businesses and initiate policies that can lead to economic turnaround.
In an interview with the media, Mr. Awotwi said it is time for the nation to achieve economic independence. "Economic independence means building our economy, building our institutions and building the capacity of our workforce. We need to have the right governance and the right management, and these are the things that as leaders we must focus on and think about. How do we make sure that the institutions that we are part of are successful and sustained?", he remarked.
Chairman of the Corporate Ghana Hall of Fame, Mr. Kwesi Abeasi who is also the Chairman of the Ghana Investment Promotion Center, said "bringing together carefully selected chairpersons meant corporate governance and corporate strategies would witness exemplary results and improvements."
The Corporate Ghana Hall of Fame was instituted to bring together outstanding chairpersons in corporate Ghana with the purpose of facilitating networking between them to share ideas, expertise, perspectives and experiences regarding corporate governance and business strategies.